Who is MyHouseMove.co.uk and why should I use them?
MyHouseMove.co.uk is a LOCAL and HIGHLY REPUTABLE online estate agent run by an EXPERIENCED and QUALIFIED Estate Agency Team.
Founder, Samantha Troy brings over 10 years' experience from High Street Estate Agencies and from the last 3 running her own successful online Agencies. She believes that customers can receive an equivalent, if not better level of service without paying for the overheads of a High-Street Agency.
"Around 95% of buyers start their new home search online, so it makes sense to be there where they are. In so doing, we're able to pass on our significant savings so that we can offer a much fairer and affordable fee for selling properties".
The average cost of a house sale with MyHouseMove.co.uk therefore is £695 - £995. Compare with % fees that equate to around £2295 - £3825 on an average price South Wales property of £135,000 and you can see that customers are getting a much better deal.
For a chat and free VALUATION, please get in touch.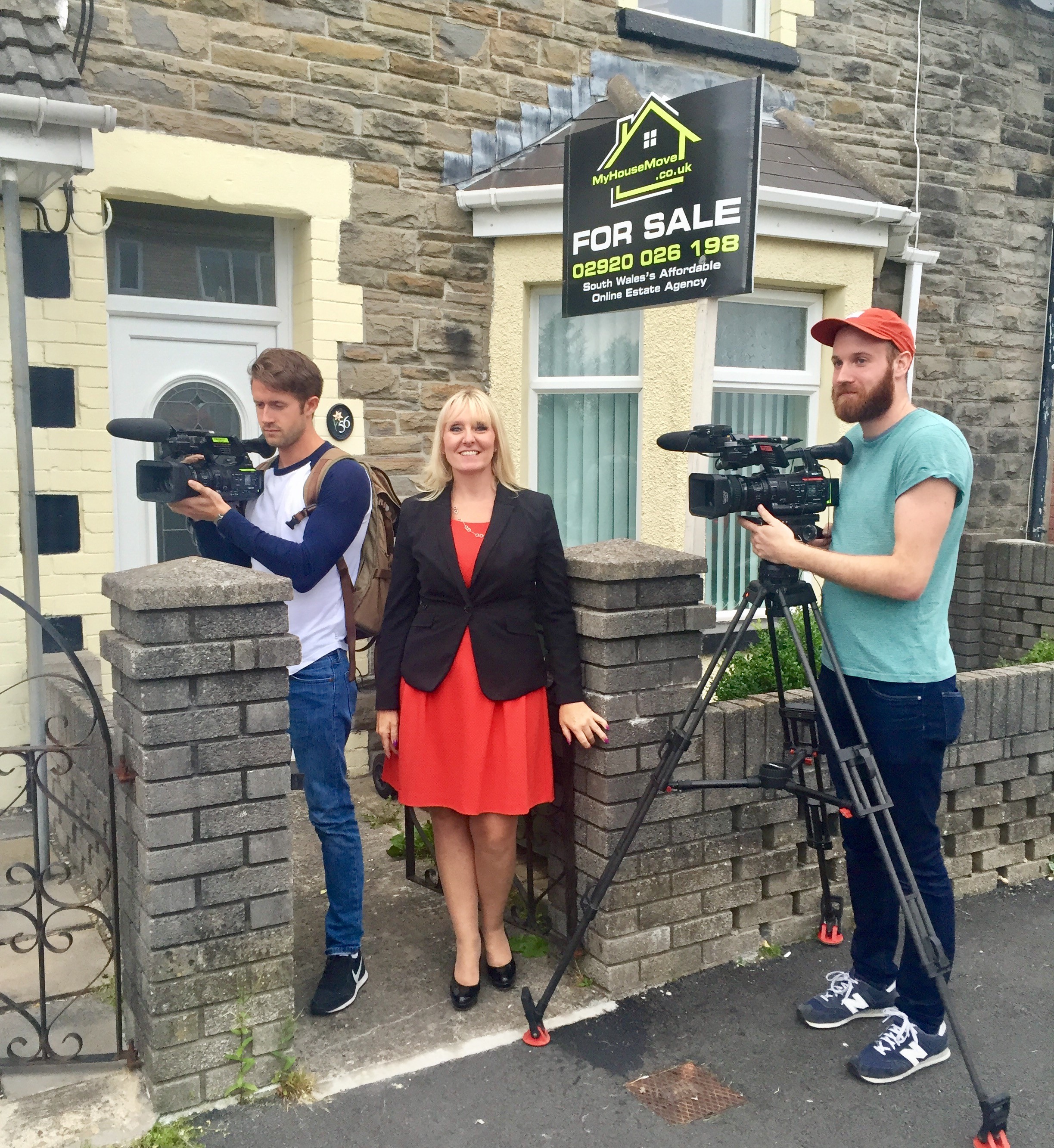 FREQUENTLY ASKED QUESTIONS
Before you buy, rent, sell or let a property, it's worth checking out some important details so that you can make informed decisions and avoid potential pitfalls.
We're here to help your property transaction run as smoothly as possible, and recommend you read our frequently asked questions here.
And of course, we're happy to have a conversation if you have further queries, we'll share our knowledge with you to ensure you receive the best possible service from us. Just call or email, we'll be pleased to help.
Vendors' frequently asked questions
Q: What is the difference between MyHouseMove.co.uk and other Estate Agents?
The biggest difference you will notice is our fees which are typically just a tenth of what you would pay a High-Street Estate Agent. This is because we operate online only, so we don't have to cover the overheads that High Street agents have. This means we can pass on these savings to our customers.
Q: Are there any other differences to your service if it costs so little?
No, you'll receive a very high level of service, personal valuation visits, viewing services (additional costs applicable) negotiation between yourself and the buyer, plus we'll handle the sale, including conveyancing, right through to completion.
Q: Do I have control over the asking price and the online advertisement?
Absolutely. We'll agree your asking price with you, take all photos and measurements, and send you a draft of your advertisement for approval or amendment prior to it going live on our site. Only when you're happy will we publish your advertisement.
Q: My house is currently for sale with another agency, can you help?
If your house is not selling via another Agency, it's highly likely we can help. Please get in touch and we can have a chat about it.
Q: Are there any hidden costs?
No. We agree your fee from the start, and that is what you will pay. You can see our pricing options here.
Q: What happens when my property is sold.
On completion, all we ask is that you send us your feedback so we can improve our service where necessary. Customer comments are always welcome.
Buyers frequently asked questions
Q: What comes first – finding a property to buy or applying for a mortgage?
We always advise buyers to have finance in place before making an offer on a property. It ensures you secure the home that you want, and don't lose out due to delays while applying for finance. We can help you with this as we have access to full market independent Financial Advisers. Just get in contact and let us know and we will have someone come out to you for a free no obligation chat with you. You can do this even if you do not even buy from us.
Q: Properties seem to sell very quickly, how can I ensure I don't miss out?
It's best to register your interest with us, so we know what type of property and location you are looking for. Then when we know of a property coming on the market that meets your criteria, we'll ensure you're the first to know about it.
Q: As your agency is online only, do we make an offer direct with the vendor?
No, our service is the same as what you'd expect from any High-Street Agency. We will act on your behalf during negotiations, and once a sale price has been agreed. This includes liaising with your solicitor, and the vendor's solicitor to inform them of the details of the sale.
Q: Do you assist with completing the sale?
Yes, we see the sale through to completion. This includes handling the conveyancing process, and handing over the keys to your property as soon as your payment has cleared the account.
Thinking of becoming a Landlord?
If you're considering becoming a Landlord, it's worth finding out about the legal requirements and further details of what being a Landlord entails. We recommend you do your research first to help you understand your obligations before you buy your first property. We're happy to help answer any questions you may have. The following questions and answers may help:
Q: I'm moving in with a friend and wish to let my property. Is there anything I need to do before letting it?
You need to inform your mortgage company of your intent to let the property, to gain their consent to the tenancy.
If the property is leasehold, you'll also need to gain consent from the Management Company or representative.
There are other checks that need to take place too, please call us for further advice before you market your property.
Q: What is Rent Smart Wales, and what does it mean for me if I am or want to become a Landlord?
Rent Smart Wales is a Government Body set up in Wales to enforce the new legislation: The Housing (Wales) Act 2014. The body enforces in Wales, a legal requirement for all landlords who offer to market or rent out a property in Wales on either an assured, assured shorthold or regulated tenancy to register themselves and their rental property address(es) with Rent Smart Wales.
However, for all Letting Agencies or Landlords who manage their own properties themselves, they will need to be licenced, having demonstrated that they are both suitably trained and "fit and proper" in order to carry out any letting or property management activities.
If you would like more information, please go to the website: www.rentsmart.gov.walesor just get in contact with us and we can help you with the requirements.
Q: Can MyHouseMove.co.uk manage my property for me?
Yes of course we can help. When it comes to lettings we work closely with our sister company Adre Properties. We are fully committed to operating within best practice guidelinesand are a member of the UK Association of Letting Agents (UKALA) and the National Landlords Association (NLA) and have complied with Rent Smart Wales Licencing.
Q: What is an EPC certificate and do I need one?
An EPC certificate is an Energy Performance Certificate and is required by law for any property prior to it being marketed for sale or rent.
It consists of a report on the typical energy use and costs for the home plus recommendations where appropriate on how to reduce energy use and cut costs.
Q: What safety certificates do I need to stay legal?
You must ensure the property conforms to the Gas Safety Regulations 1998, ensuring all gas appliances, pipework and flues are maintained in a good condition.
As a Landlord, you are also obligated to meet the Electrical Equipment (Safety) Regulations 1994.
Q: Are there any other safety obligations I need to know about?
The Housing Act 2004 and the Regulatory Reform (Fire Safety) Order 2005 require every Landlord to ensure that the Property is safe and complies with Building Regulations.
In addition, smoke and CO2 alarms, should be installed to ensure the Property is safe. And legislation requires Landlords to ensure all furniture and furnishings provided at the Property meet the fire resistance and safety standards.
Q: What obligations does a Landlord have to repair and maintain the Property?
The Repairs and Maintenance, Section 11 Landlord and Tenant Act 1985 stipulates that the Property must meet required standards, in particular the exterior of the Property, provision of water gas and electricity, and installations for heating and hot water are all in good repair and working order.
Tenants' frequently asked questions
Q: I am a Tenant and would like to sub-let a room in my house, is it OK to do this?
You need to check the terms of your tenancy agreement, and ensure that the intended sub-letting period does not extend beyond the period of your lease.
If you rent through an Agency, it is important they are kept informed of any sub-let agreement and are in receipt of supporting documentation from the Landlord that the new arrangements have been agreed.
Q: Do I need to provide a reference to my prospective landlord?
All prospective Tenants are required to provide personal and financial references, and if necessary provide details of a Guarantor.
Q: Can I bring a pet to live in my rented property?
The answer to this question lies with each individual Landlord. Some Landlords allow pets, though there may be additional conditions to adhere to. It's possible that the Landlord may wish to obtain a pet reference from a previous Landlord to check if there has been any damage in a previous property and whether the tenant is deemed to be a responsible pet owner.
Q: What happens to my bond?
The government legislates for what happens to the bond. If you rent from us it will be registered with the Government Approved Scheme: MyDeposits. All Client Tenancy Deposits are protected within segregated client money accounts and fully insured by CMP (Client Money Protection). All Clients of our Landlords' have the peace of mind that that their Tenant's money is protected.
Listing my Property
Q: What do I need to do to list my property live online?
Declutter and then get friends and family around to do it again! Years ago we had tiny blurred photos photocopied onto sheets of A4 to show off your properties…..oh so not anymore! If you are a person whom is viewing properties on your iPhones and computers and are zooming right in on rooms, you know people looking at your home on-line will be doing the same!! So, think about they will see. Yes, they will see the clutter under the bed, the 15 shampoo bottles on the side of the bath! So, it's worth taking a weekend to really have a good sort out, besides it will make your rooms spacious and will be a great start for when you do come to move!
If you'd like any more questions answered, please either call us on 02920 026198 or send us an email info@myhousemove.co.uk